Jackie Clark: Humble trailblazer helping change financial IT one successful client at a time
Jackie Clark, founding partner, Solutia SDO, has had a front seat watching the financial services industry transform in Canada. She started her career at Canada Trust with a team of enthusiastic young coders mapping out payment ideas on napkins at lunch. She's now helping lead Solutia SDO, a successful boutique consultancy with a coveted reputation as the go-to turnaround experts when complicated IT projects stall. Her success is defined by satisfied clients and she's proud that every engagement Solutia has taken on has advanced their clients in exciting ways.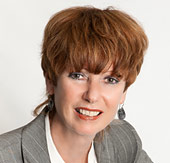 How did you get started in your career?
When I graduated with my computer science degree from Guelph, I sent 100 resumes across the country, highlighting my 'vast' work experience of weather stripping and selling Dixie cups. My parents knew the importance of education and supported me through school, and their expectation was very clear: you go to university, get a job and leave home. The pressure was on. Computer science was a hot field, but interestingly, I only got one offer. It was from Canada Trust. I didn't even ask how much money I was going to be making. I eagerly moved to London from Georgetown and I was the happiest person in the world. Out I went into the workforce to make my mark. The department where I worked was made up of 30 young people coding and testing programs, evenly split between men and women. It was the most amazing environment. We would go for a few beers for lunch – which was just what you did back then – and we would get our napkins out and start brainstorming. We'd say, 'Hey what if we designed something that did this?' And then we would go back to our desks and start coding to see if it worked. Canada Trust still remains probably one of the most progressive companies I've ever worked for when I think back on the leadership and culture. I attribute this to the vision of the two former CEOS: Ed Clark and Merv Lahn. It was all about innovation and taking risks. The mantra was: 'Let's do something fantastic. Don't worry if you mess up, just don't do it again.' We wrote mainframe programs that are still in place today. Banks are still trying to figure out what they do with them since they are so integral to their financial systems. You can't pull them out without risk that something is going to go wrong. I put my name on some of those programs. I'll bet if I went into the archives of the bank, I'd see Jackie Clark wrote this. You couldn't have asked for a greater learning ground.
Who were your most influential mentors?
Canada Trust promoted very progressive thinking on all fronts and this really set the foundation for my career. I didn't realize this type of thinking was not the norm until I left the company. It was such a collegial environment in my department and we all hung out together. The women were naturally drawn to one another. We would get together regularly, and the conversation always gravitated towards how we could mentor one another. Asking for help was very easy back then. If you were having difficulty with a specific aspect of the job, someone was always there with some wisdom. Perhaps you needed help with a presentation, someone was always eager to review to ensure it was as impactful as possible. We always had someone we could trust and could lay it all out and it was never used to your detriment. We knew we had to work together to do our best work. All these years later, we still get together socially. They have given Solutia business, and I've sent business their way as well. It's a very special group in my life.
How has the industry changed and set the foundation for your success with your clients today?
I had a fantastic HR role in the Canada Trust TD merger helping people exit the company, explaining what was going on and helping them to move on to next step in their careers. This was the first time I realized that the times they were a changing. It was no longer your choice where you worked and for how long. It was the sign of things to come. Not many of us at Canada Trust survived the merger. I got my own lovely parting gift and after a brief stint as an independent consultant, I got a call from a former contact at Canada Life Trust who wanted to start a business. I said yes right on the phone. Solutia SDO was born that day. We incorporated and set up shop in someone's dining room. We were poor in those early days. Anyone who thinks starting up a small business is sexy and fun has not done it. Solutia was me and my three other partners. You need to make sure you can work together, or your company is not going to be successful. We learned a lot about interpersonal skills and how we all needed to collaborate to make our clients successful. The majority of my work after leaving Canada Trust has been program/project management and change management. I evolved from coding and testing to leading projects. It's been a fascinating journey. I would say one of the biggest changes in our industry is that clients are much more sophisticated and informed about what they want and what they don't want. A lot more time is invested in honing your RFP to satisfy the client's requirements to ensure what you are proposing is bulletproof and is going to be successful. Our reputation is key. Solutia has become very successful and noted for our ability to leap in and save projects. If the customer comes to us with a project and they're having issues with execution, Solutia has a strong record of going in and turning things around. We are great executors. We turn things around and put our client first. We may not have the brand cache, but we have a rock-solid commitment to our client's success. This has attracted the repeat business that we continually do. I can't think of one project that we've done, and there would be hundreds — that has not been successful. Our business has grown to over 100 employees at any one time (full-time and contingent employees). We have the most impressive database of experts in the field that we can draw on for client projects.
How is Solutia helping clients fully embrace these opportunities?
At Solutia, we focus on business, IT transformation and data transformation initiatives. We spend a lot of timing thinking about what's the next big thing in these areas and how will it impact our clients. We want to help bridge business needs/strategic objectives into tactical operations. We take pride in being ahead of the curve to anticipate the future needs of our clients, so they can focus on the day to day. We want to provide them a solution they didn't even realize they needed. Our clients need to buy expertise in certain areas, staff up and satisfy that need quickly to deliver innovation to their clients. We want to provide the best team in the industry to help them.
As a successful woman in tech and financial services, how are you carving out opportunities for other women?
A lot of my clients are women and they have tremendous influence in their organizations. I always think: How lucky am I to get the opportunity to work with such talented women? They are making huge contributions to their organizations and navigating tremendous risk.  I am fully committed to them, and proudly stand right beside them every step of the way to provide counsel if they need it.  I can comfortably wear two important hats.  I have a deep knowledge of technology and understand the intricacy of developing solutions, but I am also a skilled project/program manager who can execute for a team. I am committed to their success and I want to be their trusted partner, someone who understands their pain points and challenges. I am ready to suggest how we might need to shift gears to ensure we continue to smoothly navigate work through all of the stages.   One of our biggest differentiators is knowledge transfer. I want to ensure those who are left doing the work after the project is complete have everything they need to be successful. That's part of the Solutia value proposition. It's our lovely way of wrapping up the success.
All of our partners are committed to cultivating the best talent. We invest time coaching and mentoring to create a wonderful network of people who represent the Solutia brand. Our network is very well-balanced from a diversity and inclusion perspective.  We pride ourselves on supporting young talent. Even if they don't fill every job requirement, we will bring them on board and help them get the experience they need to grow their career.  People who work for us have all the support and tools they require. It's an investment in Solutia's future success.  Our team at Solutia is so proud of our passion and dedication to our clients. After 15 successful years, we're excited about the future and what we can achieve partnering with our clients as they continue to put their trust in us to execute complex projects that deliver the most fascinating innovation to the marketplace.
Discover the depth of our resources and support and how Solutia can help you: email us at info@solutia.ca, follow us on Twitter at @SDOSolutia and connect with us on LinkedIn.
Find out how we can help your transformation initiatives